Custom Paper Cup With Good Price & Service
We are a professional paper cup manufacturer. Our products include various sizes and types of cups, such as coffee paper cup, disposable tea cup, ice cream cup, paper plate, plate bowl, paper straw, paper bag, and plastic cup, straw.
Our business including wholesale and custom, wholesale accept small quantity order, custom service can custom your own logo, printing, size, packaging etc.
Contact us
Custom service
We have a variety of paper cups, different colors, different sizes. welcome to inquire, we will definitely give you an unexpected price. For frozen food, ice cream, jam and butter, etc. Features are safe, hygienic, lightweight and convenient.
We have very beautifully designed coffee paper cups, simple styles, and very beautiful styles, Starbucks styles, and paper sleeves,
and tea cup have mini size cute and cheap.
We have a variety of different sizes of ice cream paper cups, beautifully printed, in many sizes, and various bowls with plastic lids or paper lids. we can accept small order and free sample.
Our paper plates are food grade, good quality, safe and environmentally friendly, and are often used in birthday parties, cakes, biscuits, restaurants, etc.
Because the world is promoting environmental protection, paper straws are environmentally friendly, and they will sell better and better in the future. We also have plastic straws. The biggest advantage is that they are cheap.
Paper bags are more and more widely used in daily packaging, food packaging, shopping, common kraft paper bags, white cardboard bags, can be customized printing and size.
Custom fashion printing coffee paper cups in cheap price and lower minimum quantity
We also supply paper ice cream jar, ice cream paper cups, with lid and beautiful printing
Paper cups capacity introduce
We have single wall paper cups, double wall paper cups, different style size and capacity different.
Here have single wall paper cups information, from 4oz to 32oz all have, you can check the size details choose which one is suitable for you. every style is can custom printing and logo, lid and packaging also can custom.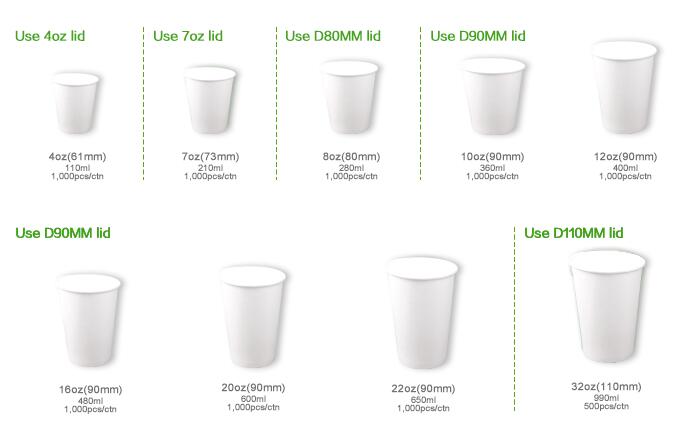 Many different style can choose
Food grade paper raw material
Accept custom logo and print
Accept small quantity order
Fast production speed